Particle Physics Planet
October 31, 2014
October 30, 2014
October 29, 2014
October 28, 2014
October 27, 2014
October 26, 2014
The CMS kinematic edge
Does CMS observe an excess that corresponds to a signal for Supersymmetry? Opinions differ.
This week a paper appeared with the statement "…CMS has reported an intriguing excess of events with respect to the ones expected in the SM" (Huang & Wagner, arXiv:1410.4998). And last month another phenomenology paper appeared with the title "Interpreting a CMS lljjpTmiss Excess With the Golden Cascade of the MSSM" (Allanach, Raklev and Kvellestad arXiv:1409.3532). Both studies are based on a preliminary CMS report (CMS PAS SUS-12-019, Aug. 24 2014), which ends with the statement "We do not observe evidence for a statistically significant signal."
What is going on here?
The CMS search examines the di-lepton invariant mass distribution for a set of events which have, in addition to two energetic and isolated leptons, missing transverse momentum (pTmiss) and two jets. In cascade decays of SUSY particles, χ02 → χ01 l+l-, a kind of hard edge appears at the phase space limit for the two leptons l+l-, as pointed out many years ago (PRD 55 (1997) 5520). When distinguishing a signal from background, a sharp edge is almost as good as a peak, so this is a nice way to isolate a signal if one exists. An edge can also be observed in decays of sleptons. The CMS search is meant to be as general as possible.
In order to remove the bulk of SM events producing a pair of leptons, a significant missing energy is required, as expected from a pair of neutralinos χ01. Furthermore, other activity in the event is expected (recall that there will be two supersymmetric particles in the event) so the search demands at least two jets. Hence: ll+jj+pTmiss.
A crucial feature of the analysis is motivated by the phenomenology of SUSY cascade decays: for the signal, the two leptons will have the same flavor (ee or μμ), while most of the SM backgrounds will be flavor blind (so eμ also is expected). By comparing the Mll spectrum for same-flavor and for opposite-flavor leptons, an excess might be observed with little reliance on simulations. Only the Drell-Yan background does not appear in the opposite-flavor sample at the same level as in the same-flavor sample, but a hard cut on pTmiss (also called ETmiss) removes most of the DY background. (I am glossing over careful and robust measurements of the relative e and μ reconstruction and trigger efficiencies – see the note for those details, especially Section 4.)
The CMS analyzers make an important distinction between "central" leptons with |η|<1.4 and "forward" leptons 1.6<|η|<2.4 motivated by the idea that supersymmetric particles will be centrally produced due to their high mass, and an excess may be more pronounced when both leptons are central.
A search for a kinematic edge proceed just as you would expect – a series of fits is performed with the edge placed at different points across a wide range of invariant mass Mll. The model for the Mll spectrum has three components: the flavor-symmetric backgrounds, dominated by tt, the DY background and a hypothetical signal. Both the flavor-symmetric and the DY components are described by heuristic analytical functions with several free parameters. The signal is a triangle convolved with a Gaussian to represent the resolution on Mll. Most of the model parameters are determined in fits with enhanced DY contributions, and through the simultaneous fit to the opposite-flavor sample. For the search, only three parameters are free: the signal yield in the central and forward regions and the position of the kinematic edge.
The best fitted value for the edge is y = 78.7±1.4 GeV. At that point, an excess is observed with a local statistical significance of 2.4σ, in the central region. There is no excess in the forward region. Here is the plot:
The green triangle represents the fitted signal. The red peak is, of course, the Z resonance. Here is the distribution for the forward region:
Comparing the two distributions and ignoring the Z peak, there does indeed seem to be an excess of ee and μμ pairs for Mll < 80 GeV or so. One can understand why the theorists would find this intriguing…
CMS made a second treatment of their data by defining a mass region 20 < Mll < 70 GeV and simply counting the number of events, thereby avoiding any assumptions about the shape of a signal. For this treatment, one wants to compare the data to the prediction, with suitable corrections for efficiencies, etc. Here are the plots:
By eye one can notice a tendency of the real data (dots) to fall above the prediction (solid line histogram). This tendency is much stronger for the events with two central leptons compared to the events with at least one forward lepton. Counting, CMS reports 860 observed compared to 730±40 predicted (central) and 163 observed for 157±16 forward. The significance is 2.6σ for the central di-leptons.
CMS provides a kind of teaser plot, in which they simulate three signals from the production of sbottom squarks. As you can see here, two of the models describe the apparent excess well:
So why is this not a discovery?
First of all, the statistical significance is under 3σ so formally speaking, this not even "evidence." More importantly, the "look-elsewhere effect" has not been taken into account, as stated clearly in the CMS note. In other words, the significance for the fit is 2.4σ when you choose 78.7 GeV for the position of the edge. If you allow for any position of the edge within some wide range of Mll, then the chance that you observe an excess somewhere in that range is much greater than 1%. Similarly, the counting excess is 2.6σ for the specific box 20 < Mll < 70 GeV, but if you consider many different boxes, the chance to observe such a single excess somewhere is not so small. For this reason, the CMS Collaboration states that there is no statistically significant excess.
That said, the agreement of the simulated sbottom signals with the data is striking, even granted that there are many free parameters here that one can tune to get a good description. The Allanach et al. paper reports a scan in MSSM parameter space to find which physical SUSY parameters are consistent with the CMS data. They impose a few theoretical constraints that are not crucial at this stage, and perform a scan with simulated signals to see which ranges of parameters reproduce the CMS data and also respect constraints from other ATLAS and CMS searches. An example model is shown here:
Wide ranges of sparticle masses are allowed, but there are strong constraints among them coming from the well-measured position of the edge. Constraints from (g-1)μ are respected and the relic density is good. Best of all, prospects for discovering one of these models at Run 2 are good — if such a signal really is present of course.
The Huang & Wagner paper focuses on the sbottom scenario mentioned in the CMS paper, and does a more detailed and refined analysis. They define two similar scenarios, here is the scheme for the first one:
They do not perform a scan of parameter space; rather, they select model parameters by hand to provide pertinent examples. They specifically focus on the relic density and (g-2)μ to make sure they their model can explain these facts. They explain their reasoning clearly in their paper. Their hand-tuned model does a nice job matching the CMS data. Of course, it also evades direct searches for sbottoms by both ATLAS and CMS.
What about the ATLAS 8 TeV data? For now, we must wait.
Quantum Foam
More educational video on something which you may have heard, but haven't quite understood.
Zz.
by ZapperZ (noreply@blogger.com) at October 26, 2014 06:01 PM
October 25, 2014
The Redshift Drift
Things are crazily busy, with me finishing teaching this week. Some of you may know, that I am writing a book, which is progressing, but more slowly than I hoped. Up to just over 60,000 words, with a goal of about 80 to 90 thousand, so more than half way through.
I know that I have to catch up with papers, and I have another article in 
The Conversation
 brewing, but I thought I would write about something interesting. The problem is that my limited brain has been occupied by so many other things that my clear thinking time has been reduced to snippets here and there.
But one thing that has been on my mind is tests of cosmology. Nothing I post here will be new, but you might not know about it. But here goes.
So, 
the universe is expanding.
 But how do we know? I've written a little about this previously, but we know that almost 100 years ago, 
Edwin Hubble
 discovered his "
law
", that galaxies are moving away from us, and the further away they are, the faster they are moving. There's a nice article 
here
 describing the importance of this, and we end up with a picture that looks something like this
Distance is actually the hard thing to measure, and there are several 
books
 that detail astronomers on-off love affair with measuring distances. But how about velocities?
These are measured using the 
redshift
. It's such a simple measurement. In our laboratory, we might see emission from an element, such as hydrogen, at one wavelength, but when we observe it in a distant galaxy, we see it at another, longer, wavelength. The light has been redshifted due to the expansion of the universe (although exactly what this means can be the source for considerable confuddlement).
Here's an illustration of this;
Relating the redshift to a 
Doppler shift
 we can turn it into a velocity. As we know, the Hubble law is  what we expect if we use Einstein's theory of relativity to describe the universe. Excellent stuff all around!
One thing we do know is that the expansion rate of the universe is not uniform in time. It was very fast at the 
Big Bang
, slowed down for much of cosmic history, before accelerating due to the presence of 
dark energy
.
So, there we have an interesting question. Due to the expansion of the universe, will the redshift I measure for a galaxy today be the same when I measure it again tomorrow.
This question was asked 
before I was born
 and then again 
several times afterwards.
 For those that love mathematics, and who doesn't, you get a change of redshift with time that looks like this
(taken from 
this great paper)
 where
z
 is the redshift,
Ho
is 
Hubble's constant
 today, while
H(z)
is Hubble's constant at the time the light was emitted from the galaxy your observing. 
The cool thing is that last term depends upon the energy content of the universe, just how much mass there is, how much radiation, how much dark energy, and all the other cool things that we would like to know, like if dark energy is evolving and and changing, or interacting with matter and radiation. It would be a cool cosmological probe.
Ah, there is a problem! We know that Hubble's constant is about Ho = 72 km/s/Mpc, which seems like a nice sort of number. But if you look closely, you can see that it actually had units of 1/time. So, expressing it in years, this number is about 0.0000000001 per year. This is a small number. Bottom.
But this does not mean that astronomers pack up their bags and head home. No, you look for solutions and see if you can come up with technologies to allow you to measure this tiny shift. I could write an entire post on this, but people are developing 
laser combs
 to give extremely accurate measurement of the wavelength in spectra, and actually measure the changing expansion of the Universe in real time!
Why am I writing about this? Because these direct tests of cosmology have always fascinated me, and every so often I start doodling with the cosmological equations to see if I can come up with another one. Often this ends up with a page of squiggles and goes no where, but some times I have what I thing is a new insight.
And this gives me a chance to spruik an older paper of mine, with then PhD student,
Madhura Killedar
. I still love this stuff!
(Submitted on 23 Oct 2009)
The evolution of the expansion rate of the Universe results in a drift in the redshift of distant sources over time. A measurement of this drift would provide us with a direct probe of expansion history. The Lyman alpha forest has been recognized as the best candidate for this experiment, but the signal would be weak and it will take next generation large telescopes coupled with ultra-stable high resolution spectrographs to reach the cm/s resolution required. One source of noise that has not yet been assessed is the transverse motion of Lyman alpha absorbers, which varies the gravitational potential in the line of sight and subsequently shifts the positions of background absorption lines. We examine the relationship between the pure cosmic signal and the observed redshift drift in the presence of moving Lyman alpha clouds, particularly the collapsed structures associated with Lyman limit systems (LLSs) and damped Lyman alpha systems (DLAs). Surprisingly, the peculiar velocities and peculiar accelerations both enter the expression, although the acceleration term stands alone as an absolute error, whilst the velocity term appears as a fractional noise component. An estimate of the magnitude of the noise reassures us that the motion of the Lyman alpha absorbers will not pose a threat to the detection of the signal.
Catching the Conversation
Wow!!! Where has time gone! I must apologise for the sluggishness of posts on this blog. I promise you that it is not dead, I have been consumed with a number of other things and not all of it fun. I will get back to interesting posts as soon as possible.
So, here's a couple of articles I've written in the meantime, appearing in The Conversation
One on some of my own research: 
Dark matter and the Milky Way: more little than large
And the other on proof (or lack of it) in science: 
Where's the proof in science? There is none
There's more to come :)
October 24, 2014
October 23, 2014
October 22, 2014
October 21, 2014
October 20, 2014
Network Theory (Part 32)
Okay, today we will look at the 'black box functor' for circuits made of resistors. Very roughly, this takes a circuit made of resistors with some inputs and outputs: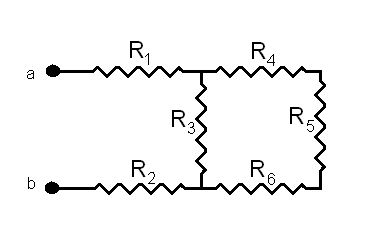 and puts a 'black box' around it: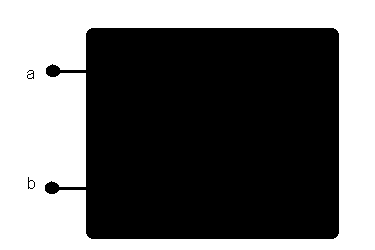 forgetting the internal details of the circuit and remembering only how the it behaves as viewed from outside. As viewed from outside, all the circuit does is define a relation between the potentials and currents at the inputs and outputs. We call this relation the circuit's behavior. Lots of different choices of the resistances
would give the same behavior. In fact, we could even replace the whole fancy circuit by a single edge with a single resistor on it, and get a circuit with the same behavior!
The idea is that when we use a circuit to do something, all we care about is its behavior: what it does as viewed from outside, not what it's made of.
Furthermore, we'd like the behavior of a system made of parts to depend in a simple way on the external behaviors of its parts. We don't want to have to 'peek inside' the parts to figure out what the whole will do! Of course, in some situations we do need to peek inside the parts to see what the whole will do. But in this particular case we don't—at least in the idealization we are considering. And this fact is described mathematically by saying that black boxing is a functor.
So, how do circuits made of resistors behave? To answer this we first need to remember what they are!
Review
Remember that for us, a circuit made of resistors is a mathematical structure like this:
It's a cospan where:
•
is a graph labelled by resistances. So, it consists of a finite set
of nodes, a finite set
of edges, two functions
sending each edge to its source and target nodes, and a function
that labels each edge with its resistance.
•
is a map of graphs labelled by resistances, where
has no edges. A labelled graph with no edges has nothing but nodes! So, the map
is just a trick for specifying a finite set of nodes called inputs and mapping them to
Thus
picks out some nodes of
and declares them to be inputs. (However,
may not be one-to-one! We'll take advantage of that subtlety later.)
•
is another map of graphs labelled by resistances, where
again has no edges, and we call its nodes outputs.
The principle of minimum power
So what does a circuit made of resistors do? This is described by the principle of minimum power.
Recall from Part 27 that when we put it to work, our circuit has a current
flowing along each edge
This is described by a function
It also has a voltage across each edge. The word 'across' is standard here, but don't worry about it too much; what matters is that we have another function
describing the voltage
across each edge
Resistors heat up when current flows through them, so they eat up electrical power and turn this power into heat. How much? The power is given by
So far, so good. But what does it mean to minimize power?
To understand this, we need to manipulate the formula for power using the laws of electrical circuits described in Part 27. First, Ohm's law says that for linear resistors, the current is proportional to the voltage. More precisely, for each edge
where
is the resistance of that edge. So, the bigger the resistance, the less current flows: that makes sense. Using Ohm's law we get
Now we see that power is always nonnegative! Now it makes more sense to minimize it. Of course we could minimize it simply by setting all the voltages equal to zero. That would work, but that would be boring: it gives a circuit with no current flowing through it. The fun starts when we minimize power subject to some constraints.
For this we need to remember another law of electrical circuits: a spinoff of Kirchhoff's voltage law. This says that we can find a function called the potential
such that
for each
In other words, the voltage across each edge is the difference of potentials at the two ends of this edge.
Using this, we can rewrite the power as
Now we're really ready to minimize power! Our circuit made of resistors has certain nodes called terminals:
These are the nodes that are either inputs or outputs. More precisely, they're the nodes in the image of
or
The principle of minimum power says that:
If we fix the potential on all terminals, the potential at other nodes will minimize the power

subject to this constraint.
This should remind you of all the other minimum or maximum principles you know, like the principle of least action, or the way a system in thermodynamic equilibrium maximizes its entropy. All these principles—or at least, most of them—are connected. I could talk about this endlessly. But not now!
Now let's just use the principle of minimum power. Let's see what it tells us about the behavior of an electrical circuit.
Let's imagine changing the potential
by adding some multiple of a function
If this other function vanishes at the terminals:
then
doesn't change at the terminals as we change the number
Now suppose
obeys the principle of minimum power. In other words, supposes it minimizes power subject to the constraint of taking the values it does at the terminals. Then we must have
whenever
This is just the first derivative test for a minimum. But the converse is true, too! The reason is that our power function is a sum of nonnegative quadratic terms. Its graph will look like a paraboloid. So, the power has no points where its derivative vanishes except minima, even when we constrain
by making it lie on a linear subspace.
We can go ahead and start working out the derivative:
To work out the derivative of these quadratic terms at
we only need to keep the part that's proportional to
The rest gives zero. So:
The principle of minimum power says this is zero whenever
is a function that vanishes at terminals. By linearity, it's enough to consider functions
that are zero at every node except one node
that is not a terminal. By linearity we can also assume
Given this, the only nonzero terms in the sum
will be those involving edges whose source or target is
We get
So, the principle of minimum power says precisely
for all nodes
that aren't terminals.
What does this mean? You could just say it's a set of linear equations that must be obeyed by the potential
So, the principle of minimum power says that fixing the potential at terminals, the potential at other nodes must be chosen in a way that obeys a set of linear equations.
But what do these equations mean? They have a nice meaning. Remember, Kirchhoff's voltage law says
and Ohm's law says
Putting these together,
so the principle of minimum power merely says that
for any node
that is not a terminal.
This is Kirchhoff's current law: for any node except a terminal, the total current flowing into that node must equal the total current flowing out! That makes a lot of sense. We allow current to flow in or out of our circuit at terminals, but 'inside' the circuit charge is conserved, so if current flows into some other node, an equal amount has to flow out.
In short: the principle of minimum power implies Kirchoff's current law! Conversely, we can run the whole argument backward and derive the principle of minimum power from Kirchhoff's current law. (In both the forwards and backwards versions of this argument, we use Kirchhoff's voltage law and Ohm's law.)
When the node
is a terminal, the quantity
need not be zero. But it has an important meaning: it's the amount of current flowing into that terminal!
We'll call this
the current at the terminal
This is something we can measure even when our circuit has a black box around it: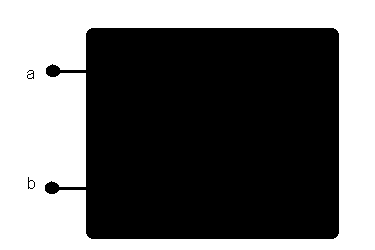 So is the potential
at the terminal
It's these currents and potentials at terminals that matter when we try to describe the behavior of a circuit while ignoring its inner workings.
Black boxing
Now let me quickly sketch how black boxing becomes a functor.
A circuit made of resistors gives a linear relation between the potentials and currents at terminals. A relation is something that can hold or fail to hold. A 'linear' relation is one defined using linear equations.
A bit more precisely, suppose we choose potentials and currents at the terminals:
Then we seek potentials and currents at all the nodes and edges of our circuit:
that are compatible with our choice of
and
Here compatible means that
and
whenever
but also
for every
and
whenever
(The last two equations combine Kirchoff's laws and Ohm's law.)
There either exist
and
making all these equations true, in which case we say our potentials and currents at the terminals obey the relation… or they don't exist, in which case we say the potentials and currents at the terminals don't obey the relation.
The relation is clearly linear, since it's defined by a bunch of linear equations. With a little work, we can make it into a linear relation between potentials and currents in
and potentials and currents in
Remember,
is our set of inputs and
is our set of outputs.
In fact, this process of getting a linear relation from a circuit made of resistors defines a functor:
Here
is the category where morphisms are circuits made of resistors, while
is the category where morphisms are linear relations.
More precisely, here is the category
• an object of
is a finite set;
• a morphism from
to
is an isomorphism class of circuits made of resistors:
having
as its set of inputs and
as its set of outputs;
• we compose morphisms in
by composing isomorphism classes of cospans.
(Remember, circuits made of resistors are cospans. This lets us talk about isomorphisms between them. If you forget the how isomorphism between cospans work, you can review it in Part 31.)
And here is the category
• an object of
is a finite-dimensional real vector space;
• a morphism from
to
is a linear relation
meaning a linear subspace of the vector space
• we compose a linear relation
and a linear relation
in the usual way we compose relations, getting:
Next steps
So far I've set up most of the necessary background but not precisely defined the black boxing functor
There are some nuances I've glossed over, like the difference between inputs and outputs as elements of
and
and their images in
If you want to see the precise definition and the proof that it's a functor, read our paper:
• John Baez and Brendan Fong, A compositional framework for passive linear networks.
The proof is fairly long: there may be a much quicker one, but at least this one has the virtue of introducing a lot of nice ideas that will be useful elsewhere.
Perhaps next time I will clarify the nuances by doing an example.
Defending Your Life (Part 2)
I've been working on our simulation software for a long time, and I'm often asked "what on earth is that?" This is my attempt to help you love simulation as much as I do. This is a follow up to Part 1, which told you all about the first step of good simulation software, called "event generation". In that step, we had software that gave us a list of stable particles that our detector might be able to see. And we're trying to find some "meons" that our friend the theorist dreamed up.
One little problem with those wonderful event generators is that they don't know anything about our experiment, ATLAS. We need a different piece of software to take those particles and move them through the detector one by one, helping model the detector's response to each one of the particles as it goes. There are a few pieces of software that can do that, but the one that we use most is called Geant4. Geant4 is publicly available, and is described as a "toolkit" on their webpage. What that means is that it knows about basic concepts, but it doesn't do specifics. Like building a giant lego house out of a bag of bricks, you have to figure out what fits where, and often throw out things that don't fit.
The first part of a good detector simulation is the detector description. Every piece of the detector has to be put together, with the right material assigned to each. We have a detector description with over five million (!) volumes and about 400 different materials (from Xenon to Argon to Air to Aerogel and Kapton Cable). There are a few heroes of ATLAS who spend a lot of time taking technical drawings (and photographs, because the technical drawings aren't always right!) of the detector and translating them into something Geant4 can use. You can't put every wire and pipe in – the simulation would take an eternity! – so you have to find shortcuts sometimes. It's a painstaking process that's still ongoing today. We continuously refine and improve our description, adding pieces that weren't important at the beginning several years ago but are starting to be important now (like polyboron neutron shielding in our forward region; few people thought early on that we would be able to model low-energy neutron flux in our detector with Geant4, because it's really complex nuclear physics, but we're getting so close to being able to do so that we've gone back to re-check that our materials' neutron capture properties are correct). And sometimes we go back and revise things that were done approximately in the beginning because we think we can do better. This part also involves making a detailed magnetic field map. We can't measure the field everywhere in the detector (like deep in the middle of the calorimeter), and it takes too much time to constantly simulate the currents flowing through the magnets and their effect on the particles moving through the detector, so we do that simulation once and save the magnetic field that results.
Next is a good set of physics models. Geant4 has a whole lot of them that you can use and (fortunately!) they have a default that works pretty well for us. Those physics models describe each process (the photoelectric effect, Compton scattering, bremsstrahlung, ionization, multiple scattering, decays, nuclear interactions, etc) for each particle. Some are very, very complicated, as you can probably imagine. You have to choose, at this point, what physics you're interested in. Geant4 can be used for simulation of space, simulation of cells and DNA, and simulations of radioactive environments. If we used the most precise models for everything, our simulation would never finish running! Instead, we take the fastest model whose results we can't really distinguish from the most detailed models. That is, we turn off everything that we don't really notice in our detector anyway. Sometimes we don't get that right and have to go back and adjust things further – but usually we've erred on the side of a slower, more accurate simulation.
The last part is to "teach" Geant4 what you want to save. All Geant4 cares about is particles and materials – it doesn't inherently know the difference between some silicon that is a part of a computer chip somewhere in the detector and the silicon that makes up the sensors in much of our inner detector. So we have to say "these are the parts of the detector that we care about most" (called "sensitive" detectors). There are a lot of technical tricks to optimizing the storage, but in the end we want to write files with all the little energy deposits that Geant4 has made, their time and location – and sometimes information (that we call "truth") about what really happened in the simulation, so later we can find out how good our reconstruction software was at correctly identifying photons and their conversions into electron-positron pairs, for example.
The fun part of working on the simulation software is that you have to learn everything about the experiment. You have to know how much time after the interaction every piece of the detector is sensitive, so that you can avoid wasting time simulating particles long after that time. You get to learn when things were installed incorrectly or are misaligned, because you need those effects in the simulation. When people want to upgrade a part of the detector, you have to learn what they have in mind, and then (often) help them think of things they haven't dealt with yet that might affect other parts of the detector (like cabling behind their detector, which we often have to think hard about). You also have to know about the physics that each detector is sensitive to, what approximations are reasonable, and what approximations you're already making that they might need to check on.
That also brings us back to our friend's meons. If they decay very quickly into Standard Model particles, then the event generator will do all the hard work. But if they stick around long enough to interact with the detector, then we have to ask our friend for a lot more information, like how they interact with different materials. For some funny theoretical particles like magnetic monopoles, R-hadrons, and stable charginos, we have to write our own Geant4 physics modules, with a lot of help from theorists.
The detector simulation is a great piece of software to work on – but that's not the end of it! After the simulation comes the final step, "digitization", which I'll talk about next time – and we'll find out the fate of our buddy's meon theory.
| | | |
| --- | --- | --- |
| | | Zach Marshall is a Divisional Fellow at the Lawrence Berkeley National Laboratory in California. His research is focused on searches for supersymmetry and jet physics, with a significant amount of time spent working on software and trying to help students with physics and life in ATLAS. |
Subscriptions
Feeds
Last updated:
October 31, 2014 04:36 PM
All times are UTC.
Suggest a blog:
planet@teilchen.at